I have said it many times: I'm a spicy food wuss. So, after biting into a super-hot Shishito pepper the very first time I tasted one, I had no plans to eat them again. But then several years later while dining out, my husband raved about the Shishito peppers on his spinach salad (served with bacon and honey-mustard dressing) and assured me they were mild. I took a hesitant nibble, and then gobbled up the rest of them. (It's fine, my husband eats the tops off of entire pans of sticky buns – we work it out). The Shishito peppers were, indeed, mild – more on that in a minute – and downright delicious. At that moment I decided to grow my own Shishito peppers, and they've been a staple in our garden ever since.
The Shishito pepper is a Japanese variety. It is a 3 inch, thin-walled, wrinkly pepper that is usually eaten green, but like many peppers, will ripen to red if left on the vine. Shishitos are sweet, but every so often you will, as I did, bite into one with a real kick – this is commonly referred to as "pepper roulette."
In zone 7b, I start my heirloom Shishito peppers indoors at the end of February or early March, begin hardening them off toward the end of April, and set them in the ground around Mother's Day. They are compact plants – around 2×2 feet – and are prolific producers, making them an excellent choice for everyone from market growers to container gardeners. In my area the peppers start ripening at the end of July, with substantial harvests beginning in August.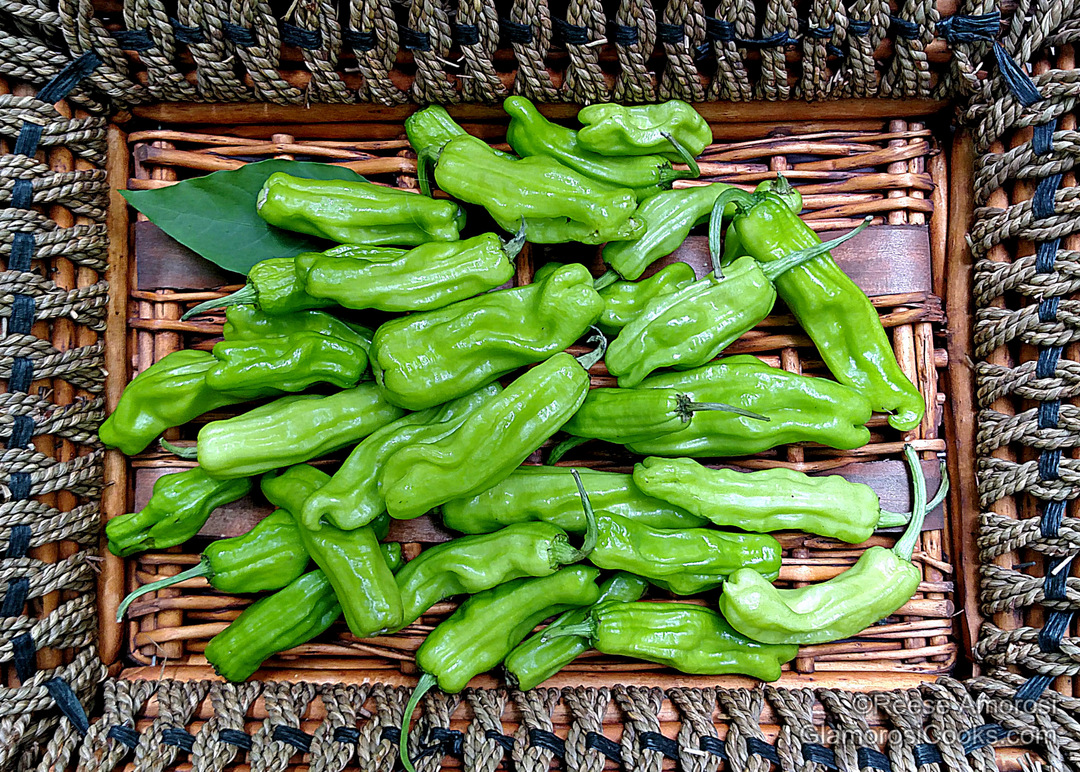 Shishito peppers can be eaten raw, but I mostly serve them cooked: fried with tempura batter, stuffed, added to garlic bread or pizza, in aioli, or even pickled. My favorite preparation of all, though, has a flavor profile that recalls that salad my husband had long ago: Roasted Shishito Peppers with Honey and Smoked Sea Salt. The smoked salt stands in for the bacon since I prefer a vegetarian version – Maldon sea salt (smoked OR regular) is a nice choice that adds flavor AND crunch. If you don't have any on hand, regular sea salt, Kosher salt or a splash of Tamari sauce will also be delicious. Roasted Shishito peppers can be eaten numerous ways: as is for a snack, served with dip or dressing (they pair well with tahini dressing), as an addition to a grain dish, etc. A squeeze of lemon is a nice touch, too.
This recipe for Roasted Shishito Peppers with Honey and Smoked Sea Salt is fast and easy; 10 minutes from start to finish. If you prefer, you can char the peppers in a skillet on the stove top instead of roasting them. If Shishito peppers aren't available, this recipe works with Spanish Padron peppers.
If you have any questions about this recipe, please scroll down and post in the comments section below.

This 10-minute recipe calls for Shishito peppers roasted until charred then dressed with a drizzle of honey and a sprinkle of smoked sea salt for an earthy, sweet and salty appetizer.
Recipe by
Reese Amorosi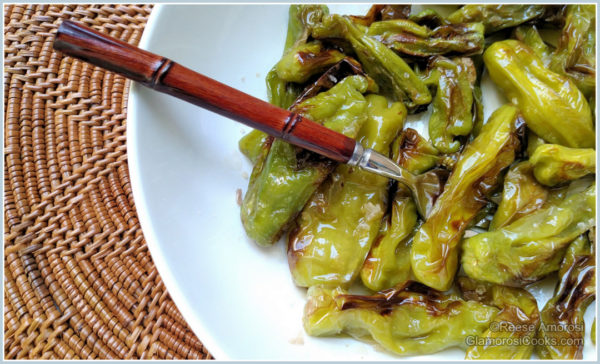 | | |
| --- | --- |
| | |
Preheat oven to 450 Fahrenheit. Place Shishito peppers in a bowl with olive oil and toss until coated.

Arrange peppers in a single layer on pan, roast for 5-7 minutes until peppers begin to blister and char.

Carefully remove peppers from roasting pan onto serving dish, drizzle with honey and sprinkle with smoked salt.