I adore Indian food, and my favorite dish is korma, a warming, stick-to-your-ribs stew with a creamy cashew, coconut milk and yogurt base. If you garden, vegetable korma is an excellent showcase for your homegrown harvest including eggplant, beans, carrots, potatoes and tomatoes. It is especially delicious served over Basmati rice, and extra nice if you flavor the rice with saffron. We like to scoop it up with bread; Indian naan is a perfect choice; pita is good, too.
As much as I enjoy vegetable korma, I'm a spicy food wuss, so ordering in restaurants is always a gamble because judging if a dish is "hot" is subjective. So, over a decade ago, I set my sights on developing my own recipe that had the wonderful blend of flavors without the heat. After numerous experiments, I perfected the recipe that has since become one of my most requested dishes at home, and is now one of the most popular cooking classes I teach. It is my go-to comfort food, and I always make a big batch so there is enough for leftovers the next day. I make it in a 3.75 quart braiser, and as you can see in the photos, I serve it in a tarte tatin dish. I have a small kitchen; I like my cookware to serve multiple purposes.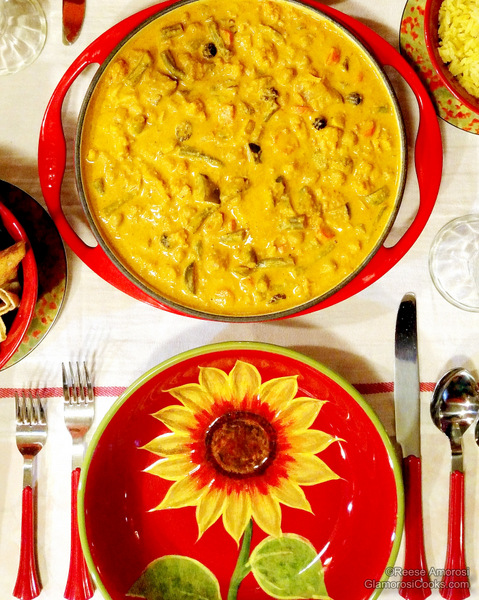 For this recipe, any aubergine variety will work, but I prefer Thai or Lao Green Stripe eggplant because they hold their shape and texture through simmering and reheating. If you don't grow your own, look for Thai eggplant in Asian markets – it is a small, round, green striped fruit (it is the smallest of the three eggplants I am holding in my profile photo).
There are things that rarely appear in my recipes: one is a long ingredient list, another is canned goods. For my vegetable korma recipe the ingredients list IS long, but it's still an easy and reasonably quick dish to prepare. This recipe also calls for two cans of coconut milk, a versatile product that is a staple in Asian cooking and a staple in our cupboard. It's excellent in curries, of course, but also in cakes, dairy-free ice cream and puddings, soups, etc. You can make coconut milk from scratch, and sometimes I do, but for this recipe, cans it is. Also, I prefer to cook my own dry chickpeas, but feel free to use cans for that, too (look for canned organic chickpeas).
If you haven't had vegetable korma before, I suggest making the recipe as written at least once to get the taste and feel of it, then put your own spin on it. Change the cashews to almonds, switch up the vegetables, adjust the spices, etc. If you like, you can substitute Romanesco or Brocco-flower for the cauliflower. If you are following a dairy-free or vegan diet you can use a non-dairy yogurt or omit it completely – it will still be a most outstanding korma.
If you have any questions about this recipe, please scroll down and post in the comments section below.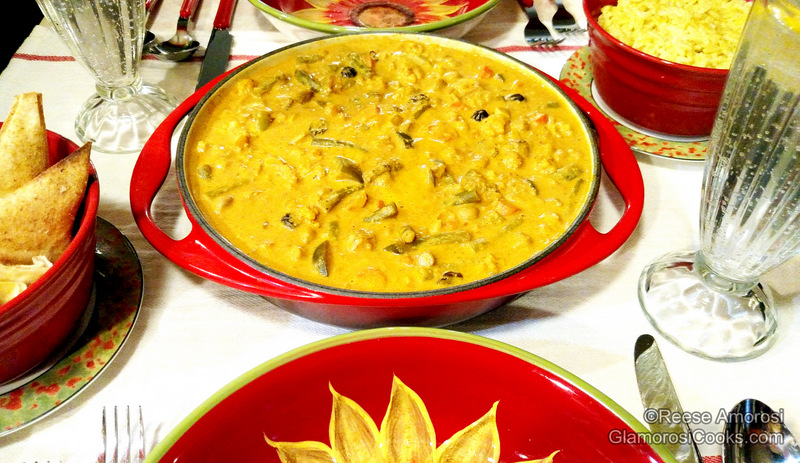 Vegetable korma with coconut, cashew and yogurt sauce is a warming, stick-to-your-ribs Indian stew. It is comfort food at its finest, and for gardeners, it's an excellent way to showcase your homegrown harvest including eggplant, beans, carrots, potatoes and tomatoes. Serve over basmati rice and if you like, scoop it up with naan.
Recipe by
Reese Amorosi
| | |
| --- | --- |
| | |
Sauté onion and garlic on medium heat in olive oil for 5 minutes, then add carrots, cauliflower, eggplant and potatoes, stirring to mix the vegetables and distribute the oil. Reduce heat to low and the let the vegetables cook, stirring occasionally, while you move on to the sauce.

To make the sauce, place the cashews in food processor or blender and pulse until finely ground. Add coconut milk, yogurt and tomato, pulse until blended, then add sauce to vegetables and stir well. *If you don't have a food processor or blender, see the "Recipe Notes" section below.

Add chickpeas, string beans, raisins, ginger and all spices, stir until well mixed. Add salt to taste, reduce heat to low and simmer for 25 to 35 minutes, stirring occasionally.

Test the vegetables to see if they've reached the desired tenderness, then serve Vegetable Korma over rice, preferably Basmati. If you like, add a basket of bread - I recommend naan or pita.
~ If you don't have a food processor or blender, it's not an issue for this recipe. Crush the cashews with a mortar and pestle, or crush them with the back of a spoon, or place them between two pieces of waxed paper and crush them with a rolling pin or can. For the tomato, once the skin is removed, smoosh it with a fork or masher, or press it through a strainer or ricer, then add to the other sauce ingredients.
~ To remove the skin from a tomato, make a small cross in the bottom, submerge in boiling water until the skin starts to peel, remove and cool. The skin will then easily peel off.
~ Be sure to cut your vegetables to uniform sizes so they will cook evenly.