Cucamelons, aka mouse melons, look like grape-sized watermelons and taste like a cross between cucumber and lime. They can be eaten straight off the vine, added to salads or stir-frys, and used to make delicious refrigerator pickles. I'm so into cucamelons that I'm featured raving about them in the 2017 Botanical Interests seed catalog (I'm on page 23), and I wrote about growing them for my first Glamorosi Cooks blog post at Heirloom Gardener Magazine. I think once you try cucamelons you'll be a big fan, too!
If you have any questions about this recipe, please scroll down and post in the comments section below.


Cucamelon refrigerator pickles are easy to make and can be used like any other pickle: in a relish tray, in salads, on sandwiches, etc. This vegetarian recipe requires 2 weeks curing time in the fridge and yields 4 pints of pickles (approx. sixteen 4 oz servings).
Recipe by
Reese Amorosi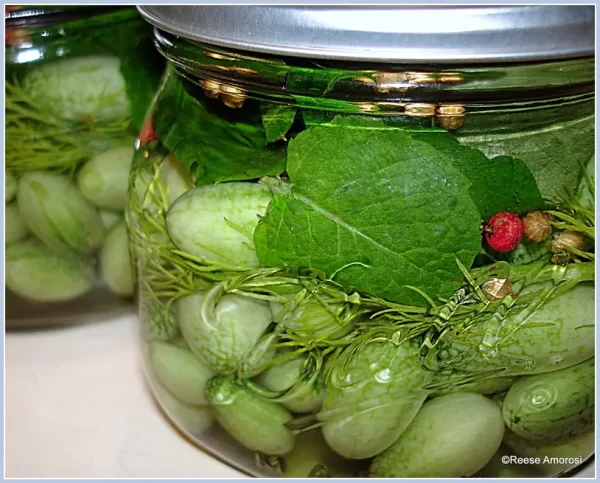 | | |
| --- | --- |
| | |
Combine vinegar, salt, and sugar in mixing bowl, whisk until sugar is dissolved, set aside.

Divide the cucamelons and spices between four pint jars (I like to use wide mouth pint jars for this recipe), placing a layer or two of cucamelons and then adding some of the spices, repeating until done. I add the dill sprigs around the middle of the jar when it's half full.

Pour vinegar mix over cucamelons in each jar up to the tread. OPTIONAL: scrunch a grape leaf, place it on top of the cucamelons, and push it down under the liquid (my Father's trick for keeping the pickles crisp). Seal tightly.

Place in refrigerator, wait two weeks until you eat them, finish within two months, continuous refrigeration required.